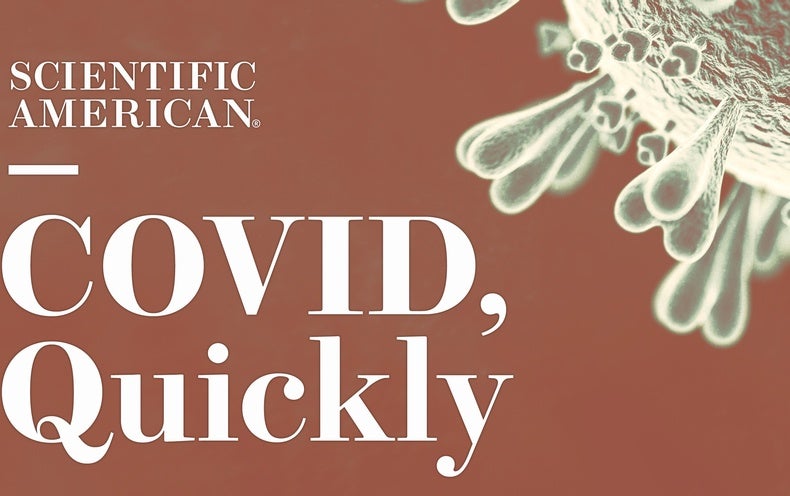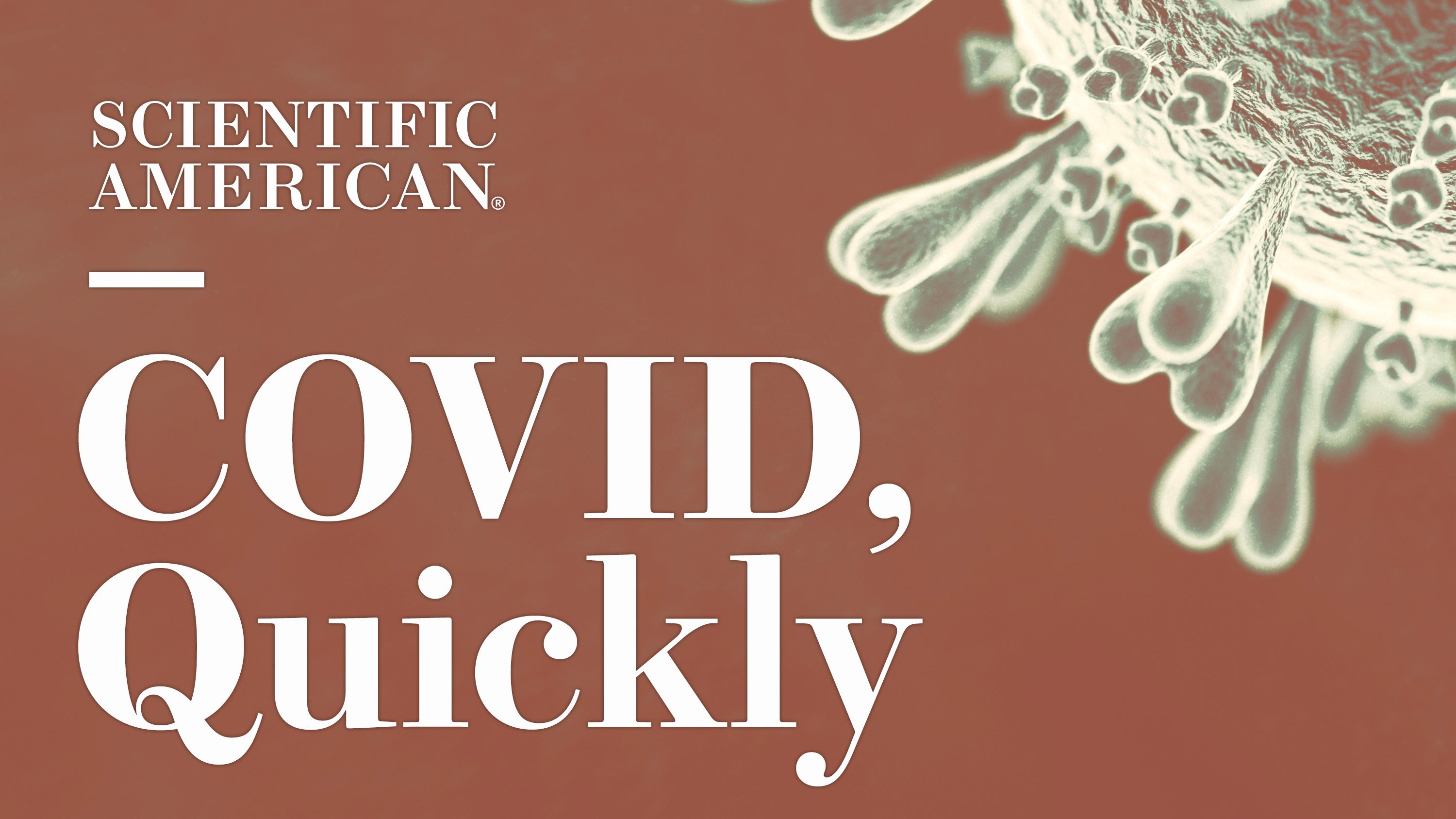 Tanja Lewis: Hello, and welcome to COVID, Snel, a Scientific American podcast series!
Josh Visser: This is your quick update on the COVID pandemic. We bring you the science behind the most pressing questions about the virus and disease. We unravel the research and help you understand what it really means.
Lewis: I'm Tanya Lewis.
fisherman: I'm Josh Fishman.
Lewis: And we are senior health editors at Scientific American. This is our special episode of Back to School. We'll talk about why COVID testing is about to become a school problem.
fisherman: And then there's good news about children's risk of long-term COVID: it's quite low.
—
Lewis: If you have young children, you've already started buying new notebooks and maybe a new backpack: it's time to go back to school. And you've probably been worried too.
fisherman: Schools are large group settings, and group settings are good places for COVID outbreaks with the contagious BA.5 sub-variant running around. You probably received warning letters last spring stating that someone in your child's class tested positive, and if your child was a close contact, get your child tested as well.
Lewis: Simple rapid testing is a good way to contain outbreaks. And we all want to keep children and teachers safe and schools open.
fisherman: That's true, but we're starting to run into problems with this containment strategy.
fisherman: Let me start with Ashish Jha, the physician who is the White House's COVID Response Coordinator. He came on Twitter this week to say he's ready to send his kids back to school, and he wanted to highlight ways to do it safely.
fisherman: His first point was about vaccines. The injections lower the infection rate in children and do a great job of blocking serious diseases. But this is problem number one: children don't get their injections. The percentage of fully vaccinated children aged 5 to 11 is only 30 percent. For children under 5, who recently became eligible for shots, it's even worse: only about one percent.
fisherman: Things are looking better for kids ages 12 to 17. Their vaccination rates jump to 60 percent.
fisherman: But for those younger kids, the low rates mean many show up in school without the first and best line of defense.
Lewis: So that increases the risk of outbreaks, doesn't it?
fisherman: It does. That brings up Jha's second point. The best way to keep the spread down and reduce outbreaks is testing.
fisherman: And the US government has so far bought tens of millions of tests and made them available to the public, and those purchases created a market that encouraged companies to run even more tests.
fisherman: But that's going to change. Jha — the same man who emphasizes the importance of testing — told CNN that sometime in the fall, the government will stop buying these things and turn that over to the commercial sector. Not all at once, but in a sort of phased withdrawal.
Lewis: You can still get tests, right?
fisherman: Yes, but less at free clinics and more at drugstores and doctor's offices, the mainstream medical system. A rapid antigen test kit retails for about $20 to $30. The more extensive PCR tests cost about $250. You need to find out if your insurance company will pay for it, file claims and wait for reimbursement.
Lewis: And probably arguing with insurance about how much they will pay because that's how insurance works in this country.
fisherman: What if you're one of the 26 million Americans who don't have health insurance? You pay for tests yourself.
Lewis: You can still get free tests in schools. The White House says it will provide 5 million rapid antigen tests and 5 million PCR tests to schools that request them, and the schools should give them to you.
fisherman: But the shift to mainstream healthcare is going to complicate the testing landscape. With low childhood vaccination rates, you may need some tests and more running around to get them. New Jersey just announced that unvaccinated school and childcare workers will no longer have to be routinely tested, and if other states follow suit, detecting outbreaks will become even more difficult.
fisherman: So along with those new school notebooks and pencils, it might be a good idea to stock up on some COVID tests now while they're still pretty easy to get hold of.
—
fisherman: There is a lot of scary and conflicting information about long-term COVID, especially when it comes to children. What do the studies really show?
Lewis: At the beginning of the pandemic, there was good cause for concern. Some studies showed that the risk of long-term COVID symptoms such as fatigue, depression, or headaches lasting weeks or months after infection may affect as many as two in three children with COVID.
fisherman: That is a lot. Have those findings held up over time?
Lewis: Well, more recent studies offer some reassurance that the risk of long-term COVID in children is much lower. As SciAm contributor Shannon Hall reported this week, these studies had something many of the previous studies lacked: a control group.
fisherman: That seems like a pretty big shortcoming to me.
Lewis: It is. When researchers compared the rate of long-term COVID symptoms in children who were infected with those who had not, they found little to no differences between the two groups. For example, a large UK study published last year found that most children who had COVID felt better within six days, and more than 98 percent had fully recovered within eight weeks. In contrast, children who tested negative for COVID felt even worse than those who tested positive after four weeks.
fisherman: That's not what I would expect.
Lewis: Right. And a study earlier this year in Denmark, where schoolchildren were strongly encouraged to get tested for COVID twice a week, found that those who tested positive were slightly more likely than those who tested negative to have at least one long-term COVID-19 two months later. -symptom to report. But the difference was small.
fisherman: Were there any other problems with the studies?
Lewis: Well, one problem is that different agencies use different definitions for long-term COVID. The CDC defines it as symptoms that start a month after infection, while the World Health Organization describes it as anything that lasts for at least two months.
fisherman: I can see why that would be confusing. Is there anything else that could explain the symptoms in COVID negative children, if not COVID itself?
Lewis: Yes, researchers suspect that the children in the control groups were simply suffering from other respiratory viruses. But another possibility is that the pandemic school closures and other societal changes could cause all sorts of physical symptoms. Another study in the UK found that as many as 40 per cent of children – including those who had recently had COVID and those who had not – felt worried, sad or unhappy.
fisherman: That's sobering. But, stepping back, how concerned should parents be about long-term COVID itself?
Lewis: The findings suggest that long-term COVID is not a major risk for children. But it can still be a real struggle for those who do develop it. And other research has shown that children who have had COVID are at higher risk for complications such as diabetes and heart problems than children who have never been infected.
Lewis: Scientists still have a lot to learn about long-term COVID, both in children and adults. But recent findings suggest it may not be as common as some had feared.
—
Lewis: Now you are up to speed. Thank you for joining us. Our show is edited by Jeff Delviscio and Tulika Bose.
fisherman: Check back in two weeks for the next episode of COVID, Fast! And check sciam.com for current and in-depth COVID news.
[The above text is a transcript of this podcast.]