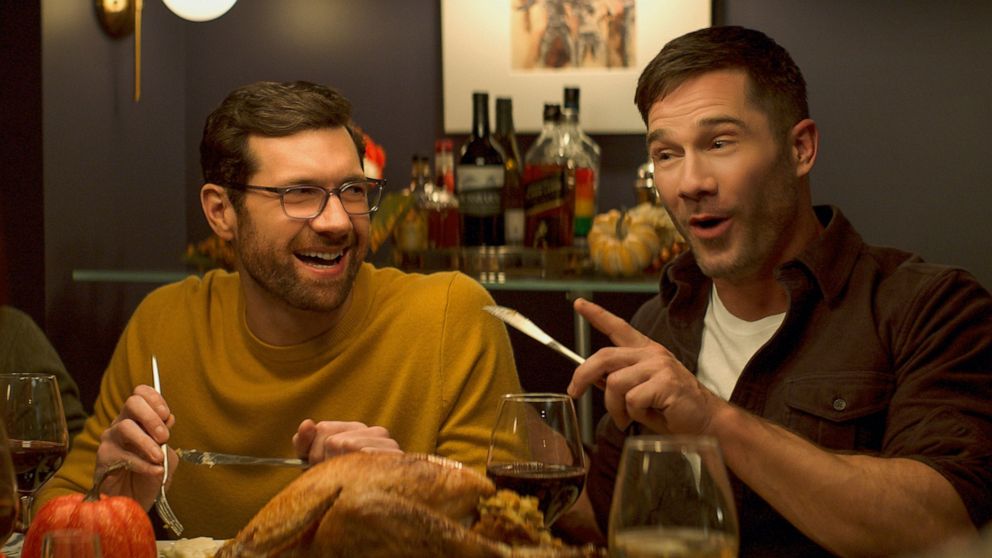 NEW YORK — It doesn't take a genius to conclude that someone ranting in New York's Madison Square Park about "Ratatouille" not getting enough respect or getting a shout-out on 42nd Street over Denzel Washington's stage credits has a complicated relationship with the entertainment industry. could have .
For five seasons of "Billy on the Street," Billy Eichner was a hysterical wandering commentator on Hollywood, proclaiming his tastes to any passerby he could muster with exaggerated disregard for those who disagreed with him and underscoring anger at himself for he cared about him so much .
"Show business, I was always so charmed and so in love with it. I was really intoxicated by it," says Eichner, who grew up in Queens with middle-class parents who encouraged his passion. "I love great acting. I like the movies I like. And yes, 'Billy on the Street' was a way of making fun of my own obsession with the entertainment industry."
But as much as "Billy on the Street" resembled Eichner as himself in the real world of Manhattan, his new movie "Bros" (in theaters September 30), is a much clearer picture of who Eichner is as a comedian, actor , screenwriter and gay man. And this fall movie season, it also happens to be a historical comedy.
Eichner stars in and wrote the Universal Pictures release with director Nicholas Stoller. (Judd Apatow produces.) The first bud was to move forward with a "Billy on the Street" sketch in which Eichner performed as a Jets jersey-wearing sports brother with Jason Sudeikis. But as it developed, "Bros" grew in a different direction. In the classic format of a mature, R-rated romcom, Eichner paints an extraordinarily honest and insightful portrait of life as a single gay man.
Like "Billy on the Street," it's often laughably funny and brimming with sharp observations about Hollywood—a Hollywood where, until now, a movie like "Bros" was essentially an impossibility. "Bros" is the first gay rom-com from a major studio and the first studio film of any genre, both written by and starring an openly gay man. The cast is almost entirely LGBTQ.
"Its history is exciting. It is truly a monumental moment," Eichner said in a recent interview. "I've been an openly gay actor and comedian my entire career, long before people knew me. I always wanted to be really successful, but I wanted it to be on my own terms, ie as an openly gay person. That is not something that is easy to do. And that goes for every cast member of this film."
Premiering at the Toronto Film Festival, "Bros" follows Bobby Lieber (Eichner) through modern-day issues of Tinder dating and monogamy struggles, but also makes room for dialogue about how gay lives are portrayed in film, and who should be allowed LGBTQ stories. narrate . Eichner plays the director of an LGBTQ museum in the film; history is very much in mind of the film. Topics include "Bohemian Rhapsody," a pseudo "Brokeback Mountain" ("The Treasure Within"), a gay slur from "The Hangover," and whether Lieber's biopic would star in Benedict Cumberbatch.
"It's always been so funny to me being gay in Hollywood because behind the scenes it's really not that liberal," Eichner says. "It was never as progressive as it claimed to be. Just because you claim to be gay-friendly or vote for a Democrat or say you're for marriage equality, that was never really reflected in the actual work Hollywood produced. We got to where they were responsible." and responsible for, they never gave us opportunities.
"And on the rare occasions when you've seen LGBTQ characters front and center on a movie or TV show, the vast majority of those roles were played by straight actors or actors who might not have come out," Eichner added.
Eichner, who co-starred with Julie Klausner on the "Difficult People" series and voiced Timon in 2019's "The Lion King," has mixed feelings about some of these issues. He thinks "Brokeback Mountain" is "a wonderful film" that touched him deeply when it came out. But 17 years later, if that film were to be remade, Eichner thinks it would be a "more poignant and more ethical production" if those characters were played by openly gay actors.
"That doesn't change the fact that Heath Ledger is brilliant in that movie. No one will deny that Sean Penn is amazing in 'Milk'. No one will deny that Tom Hanks is great in 'Philadelphia,'" says Eichner. I didn't get the part and he said it was the right thing to do. In 1992 you needed Tom Hanks to be a gay man. playing who died of AIDS, because the movie wouldn't have gotten the funding it needed, wouldn't have gotten a wide release and, on some level, straight people wouldn't have been comfortable with it."
Eichner, 43, is well aware of the recent Hollywood history leading to "Bros." for gay performers, it meant sacrificing their careers. Eichner, himself, has previously been told by a theater agent to "tone down" his homosexuality.
"And those were the options until, I don't know, a few years ago. 'Bros' is the antithesis of all that,' says Eichner. "It's not just a symbol, because it's a living, breathing film that I think is creatively very successful in its own right and has nothing to do with representation or its historical nature. But besides being a very funny movie, it is also a symbol of progress.
"It's really, honestly, just kind of a big f– you to Hollywood history and how it's treated LGBTQ people behind the scenes."
Eichner's "Billy on the Street" character — arch, satirical — isn't his character in "Bros," although they have some qualities in common. It was important to Eichner that his character and the film's love interest, played by Luke Macfarlane, were complex, three-dimensional characters, not an absurdist version of a gay man — not stereotypical sidekicks.
"Billy on the Street" opened with a fake theme song that introduced him as "Making dreams come true." But with "Bros," Eichner may have really done that—probably for many others, but certainly for himself.
"It's by far the best thing I've ever done," says Eichner. "I may be a full, multidimensional human being. It's not identical to me, but you can see when you watch the film, this is really the most accurate glimpse of all that I am."
———
Follow AP film writer Jake Coyle on Twitter at: http://twitter.com/jakecoyleAP
———
Read AP's Fall Film Preview here: https://apnews.com/hub/fall-films